arrow_backBack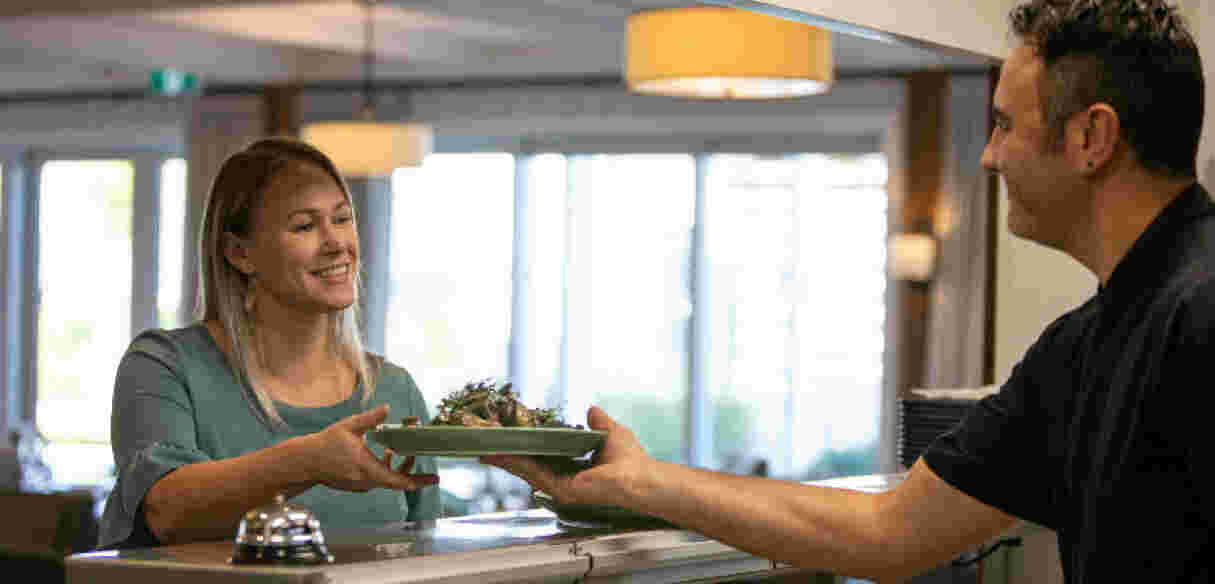 Residents enjoy exceptional hospitality
Pacific Coast News
Staff cooked and delivered over 2000 takeaway meals to residents during lockdown, and at Alert Level 3 scores of takeaway coffees were served everyday at a temporary drive though at

The Beach House

, the village's main

community facility for the seniors

here.
Takeaway meals, groceries, and courier parcels delivered to their door during the recent COVID-19 lockdown is an example of the exceptional hospitality Pacific Coast Village residents have come to love and know. With residents used to taking a short stroll to The Beach House to grab a barista coffee at the
Bloom Eatery and Lounge
, or take in an à la carte meal at
The Grill Brasserie
, village management wanted to ensure life in COVID-19 lockdown wasn't without a few luxuries.
As well as the 'bellhop' delivery service, staff had a call list of residents they telephoned each day, ensuring no one was left wanting for anything during the six-week lockdown.
Residents also played their part in keeping their vibrant, social community going, meeting on the 'street' outside their villas – at an appropriate physical distance - for morning tea and evening drinks. And those living in the village's new serviced Hikurangi Apartments formed their own 'bubble', sharing prepared meals, activities and plenty of laughs, says apartment resident John Wheeler.
John, 81, is one of the founding residents of Pacific Coast Village, moving into one of the first villas completed in 2010 with his wife Denise. After Denise passed away a few years ago, John continued to live alone in his villa, but with his physical health deteriorating, and his enthusiasm for frozen dinners waning, he moved into Hikurangi Apartments just two days before the lockdown. "After a lifetime of running marathons, a few years ago my feet packed up so I can't walk more than 50 metres and I've had to give up bowls, but thanks to the boardwalk here I can still go to the beach in my buggy [mobility scooter].
John says transitioning from a villa to the apartments has been great. "Throughout lockdown the residents supported each other, playing card games, doing quizzes and going for walks. It's worked very well and I've enjoyed the talk and laughter every day. It's a happy place and I've welcomed the added support. I have a sense of belonging."
Hikurangi Apartments includes 36 one and two-bedroom serviced apartments, providing options for residents who would like some assistance with everyday domestic tasks such as cleaning and cooking. Assisted living packages start with a minimum service package and additional services can be supplemented as required to cater for residents' changing needs. One of the benefits of living in the apartments is the proximity to The Beach House where, as well as a café and restaurant, there is a 45-seat movie theatre, hair and beauty salon, and a range of general activity areas.
Together with the village's 250-metre beach boardwalk, international sized bowling green, 25-metre swimming pool and Summerhouse community pavilion, Pacific Coast Village offers true resort-style retirement living.
As well as the Village Social Club - a sub-committee of the Residents' Association - there are multiple clubs, activities and social groups available to join across the village. Regular social events include a quiz night, Winter Solstice, Melbourne Cup festivities, a Christmas party and New Year's Eve party.
Pacific Coast Village manager Carl Braddock says the average age of residents is around 78, which is younger than many other retirement villages.
"While many of our residents are already very busy and active, it's important to develop social connections, both for physical health, and mental health and wellbeing." And residents' mental health and wellbeing was at the fore during the recent COVID-19 lockdown. "Residents have spoken of how safe and secure they felt and have been very open with their praise of our service, which was essentially room service," says Carl.
The hospitality facilities at Pacific Coast Village are open to the friends, family and clubs of resident hosts. The Tauranga Beef and Burgundy Club is a repeat visitor to The Grill Brasserie and bestowed the restaurant with its Award of Excellence last year. "Our Food and Beverage areas are the heart and soul of The Beach House," says Food and Beverage manager Erika Rans. "The Beach House versatile spaces and atmosphere are incredible. People are sitting in the sun drinking coffee or enjoying Friday night Happy Hour in the bar. Some nights we can have up to 60 people dining in the restaurant."
Brothers John and Tom Uden moved to Pacific Coast Village in 2017. The pair live in a 'street' of 12 villas in the village with 22 residents – aged between 70 and 90 - who socialise together regularly. "We enjoy a lot of activities together both inside and outside the village, and when the restaurant reopened here we had a street dinner to celebrate a birthday we missed during lockdown," says John. The brothers also bring their extended family – siblings, in-laws, nieces and nephews and their children - into the village for family dinners at The Grill Brasserie. "You can really keep up your family contact here, which is important," says John.
Erin Miller, 67, moved to Pacific Coast Village two years ago. It was love at first sight. "I thought 'this is gorgeous'. It's a lock-up-and-go lifestyle with all the facilities, and across the road from the beach. "My family and work colleagues were horrified at the thought of me moving into a retirement village but I said 'no, it's a lifestyle village. When they visited and saw that it was more like a resort they got over that." Erin says if she had been living on her own in the community during lockdown she would have been "a mess." "I wouldn't have seen anyone. My neighbours here – we call ourselves the Famous Five – have been looking after me and we had morning tea outside each day and went for walks on the beach. It was so lovely; I'm very happy here."
Share this article via: