arrow_backBack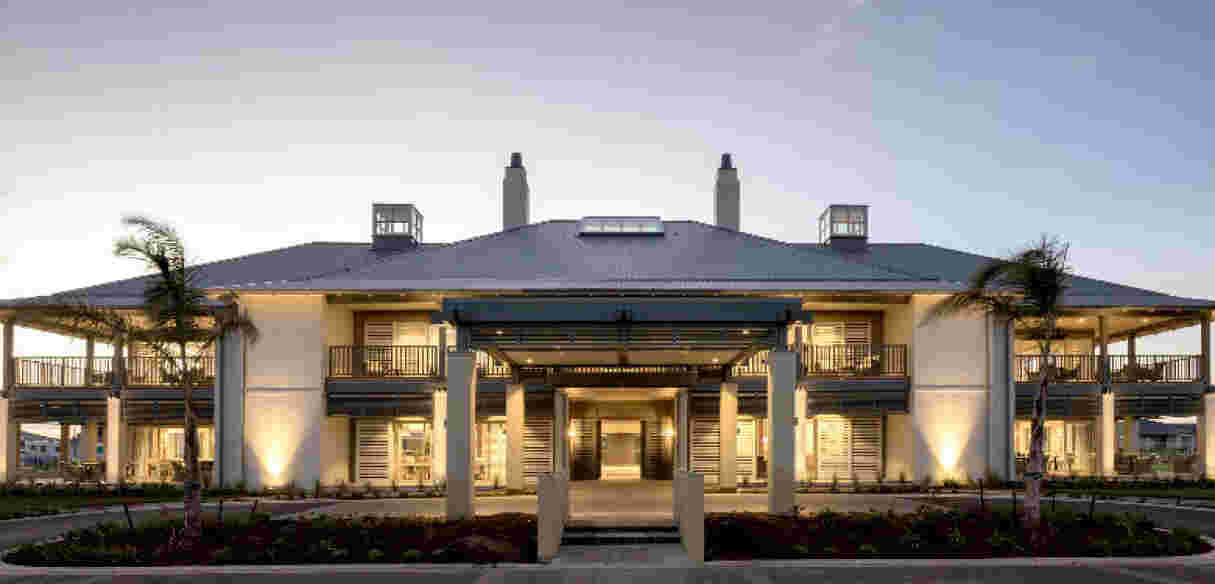 Leading retirement village opens world-class facility
Pacific Coast News
Pacific Coast Village, which has sold a remarkable 100 villas in the last 12 months, today opens its landmark five-star village community centre – The Beach House.
This upscale "lodge-inspired" facility is unprecedented within the retirement village industry in Australasia.
Retirement Commissioner Diane Maxwell will officially open the 1900m2 two-storey Beach House this afternoon.
The 16-hectare Pacific Coast Village continues a Bay of Plenty success story - a unique partnership between local iwi (Mangatawa Papamoa Blocks Incorporation) and retirement village operator Generus Living Group. The village has been so popular, it has struggled to keep up with demand.
Graham Wilkinson, director of Generus Living Group, says the village was built with the confidence there was a demand for world-class beach-side retirement living with five-star facilities in the Bay of Plenty.
This has been proven with the success of the village, with construction completed on an average of two high-end retirement villas every week. A significant 40 per cent of sales have been to residents moving to the Bay of Plenty from out of the region, half of those from Auckland, to enjoy the premium beach-side location.
"The speed of growth and level of interest has been phenomenal. Pacific Coast Village is one of New Zealand's premier retirement villages, and arguably the best located," says Graham.
"Between the $185 million construction project, and bringing 40 per cent of residents from outside the area, the village is really contributing to the local economy.
"Generus Living Group is known for setting new standards for retirement villages – in terms of physical design, architectural individuality, social variety and quality of care.
"The opening of our $10 million village community hub, The Beach House, is the latest example of that and the next step in providing this level of quality living at Pacific Coast Village."
This comprehensive community building houses a brasserie restaurant, an eatery and lounge, a club lounge bar, study, craft and activity rooms, hair salon and spa treatment room, and even a luxurious 50-seat movie theatre. The attention to detail and residential underscore are unparalled.
The vision for The Beach House was initially inspired by work by American architect Howard Bracken, and the building was designed by renowned Auckland architects Sumich Chaplin, who have been responsible for some of New Zealand's most upscale residential homes and resort lodges.
With the village now well established, the time was right to invest further to provide all the facilities that residents want and need, says Graham.
"The Beach House is designed to reflect the coastal environment, with a feeling of understated beach elegance. This facility provides a major point of difference for Pacific Coast Village.
"We use architects who are better known for large houses and resorts for our village buildings, to ensure a feeling more akin to an upscale resort rather than a retirement village.
"Together with the village's 250-metre beach boardwalk, international sized bowling green, 25-metre swimming pool and Summer House community pavilion, the new facilities will ensure we can cater for every village resident's needs both now and in the future."
The Beach House will add to the existing resort-like ambience, amplified by tropical gardens and aesthetic setting. Graham says the vibrancy of village life, coupled with the relaxed 'resort' atmosphere, is creating the high demand both nationally and locally.
"Retirees want to be comfortable, safe and have help at hand, but they also want quality. When choosing a retirement village, they want spacious, high-spec homes with beautiful gardens set in well-maintained grounds. And they want top class facilities and service," says Graham.
Pacific Coast Village's rapid construction means it has consistently featured on lists of most high-value resource consents in the Tauranga area.
The next part of its expansion plans is a serviced apartment complex and aged care facility. This will provide much needed residential care in the Mount Maunganui-Papamoa area, allowing village residents and local community the ability to stay on the coastal strip as their needs change.
"There is a severe shortage of care beds in Tauranga and nothing of an equivalent standard. We're delighted to be able to offer this much-needed service in the coming years," says Graham.
Share this article via: