arrow_backBack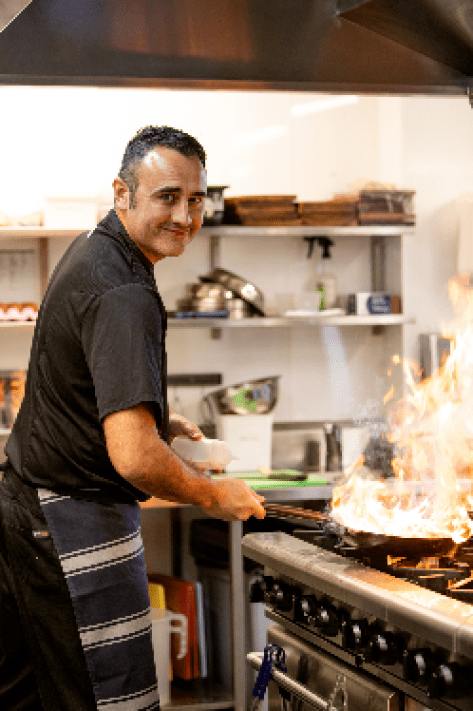 Fabulous fare on offer
Pacific Coast News
Pacific Coast Village manager Carl Braddock says the level of hospitality offered at the village and The Beach House is so highly valued that it is the preferred hospitality venue in the Mount Maunganui area for residents, their family, friends and community clubs.
As the grandson of an English butcher and nephew of a French inspired cook, Pacific Coast Village's head chef Matt Wilson was destined for a career in hospitality.
He certainly knows his meat, and his Surf and Turf' dish at the village's brasserie, The Grill, is reported to include the best steak in Tauranga. United Kingdom-born Matt moved to New Zealand with his family in 1994. After completing his studies he worked in restaurants, bars and cafes in New Zealand for a while before returning to the UK to do the same. A season working in the French Alps not only gave him a greater appreciation for French cuisine, but he also became a proficient skier!
Matt has extensive experience in the New Zealand hospitality industry, which has put him in good stead for overseeing not only The Grill, but also the village cafe, Bloom Eatery and Lounge, catering for large-scale functions at the village, and providing meals for the supported living residents at the Hikurangi Apartments.
"It's a very multifaceted role but it ties in with all of my previous experience. Our experienced team includes four chefs,as well as three kitchen porters."
The father of two young children, he also took time out from the industry for four years to work as an arborist – a skill which has come in handy for maintaining the village's herb garden outside his kitchen window! As the name suggests, The Grill offers a lot of dishes cooked on the grill but brought together in a brasserie style, says Matt.
"It's all about variety because, being a retirement village, we have the same people dining here regularly. In saying that, there are some dishes we can't take away because they are so popular, such as the Surf and Turf, and Vege Stack."
All the food at Pacific Coast Village is made on-site. Matt uses fresh ingredients and loves to experiment with new tastes and flavours, including a garlic-infused gel he has added to his popular lamb backstrap dish.
The added bonus of working at a retirement village is that Matt has gotten to know many of the residents and they often pop up to the counter for a chat.
"That's fantastic, and I've been blown away at the response of the residents. They bring in their friends and family and we host groups such as the Tauranga Beefsteak & Burgundy Club several times a year which has awarded The Grill its prestigious Award of Excellence."
During the COVID-19 lockdown Matt and his team were kept busy making takeaway dinners for the residents, which were delivered door to door by the village team. The Sunday night roasts, always popular in the restaurant, were even more so during lockdown.
Exceptional hospitality is something that Pacific Coast Village residents have come to love and know.
The brasserie and cafe are housed in the village's community facility, The Beach House, which also includes a 45-seat movie theatre, hair and beauty salon, and a range of general activity
areas.
Together with the village's 250-metre beach boardwalk, international sized bowling green, 25-metre swimming pool and Summerhouse community pavilion, Pacific Coast Village offers
true resort-style living.
Share this article via: