arrow_backBack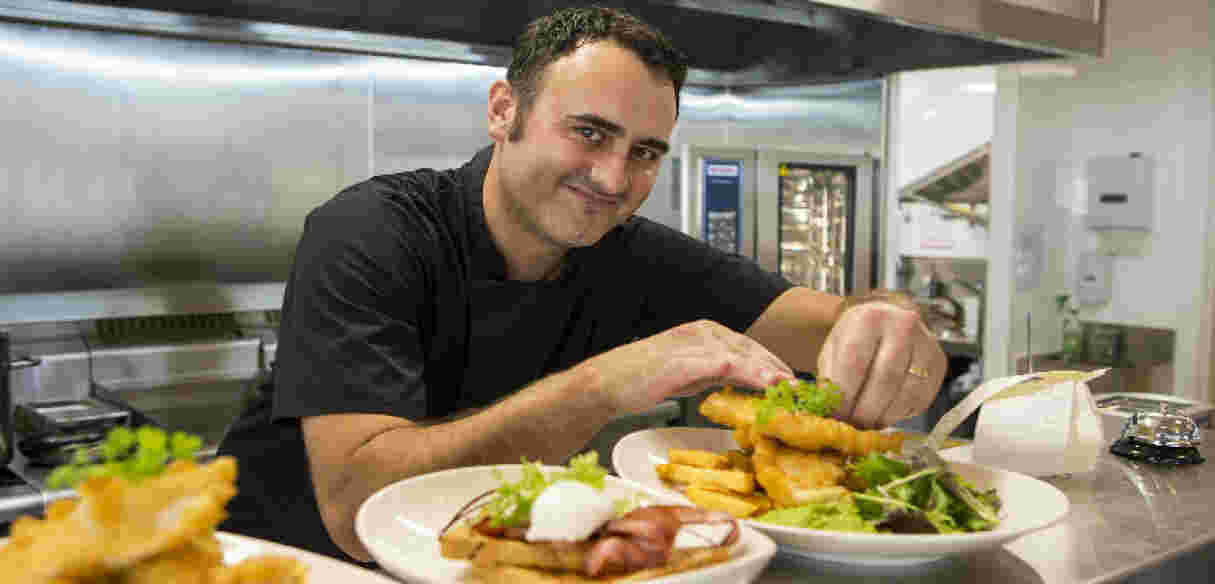 Blooming Good
Pacific Coast News
It's a sunny Thursday morning in the Bay of Plenty. Light spills in through wide floor-to-ceiling windows into a contemporary white-filled space tinkling with laughter where residents lounge in comfortable Cape Cod chairs over steaming plates of Eggs Benedict. Cappuccinos slide seamlessly from the gleaming open-plan stainless steel kitchen beyond, to others curled up quietly with a good book. We're at Bloom Lounge and Eatery, one of two fine establishments happily ensconced in the brand spanking new Beach House facility at Pacific Coast Village. What's more, it's little wonder the Eggs Benedict is so popular here as it's based on a recipe head chef, Matt Wilson, has developed over a lifetime in the hospitality industry. "We serve it on top of a herb potato rosti so it's a great healthy and gluten free option," he says.
Matt is clearly thriving in the relaxed and cosy lounge atmosphere, with its big open kitchen; an experience which is far removed from the average clattering cafe, with its customary bunch of tables squeezed into a small room. "It's a really positive environment here," says Matt. "Residents can come up and a have a chat, and everyone's been really interesting and positive so far. We've had a really good response." There's no doubt in my mind that the resort-like atmosphere is superior, but what really sets it apart is the food. Both village eateries - The Grill, a brasserie-style restaurant, and Bloom, a casual yet elegant eatery and lounge - are managed by Matt, and feature tantalising menus for all residents to enjoy.
From Bloom's brunch menu and selection of freshly made juices and smoothies, through to The Grill's delectable-sounding starters such as the Green Apple Salad (layers of apple, fennel and cos lettuce, with blue cheese and walnuts), or the Home Cured Salmon, served with pickled beetroot, celeriac slaw and wasabi cream, I find simply reading through the menu makes my taste-buds scream – and not a morsel has yet passed my lips.
The menus are certainly health conscious, yet there's a good dose of naughtiness too. So it comes as no surprise to discover that in the past, Matt opened two cafes in Auckland, one of which served a wide range of organic and 'clean' food. That experience, teamed with his adventures in the French Alps cooking for luxury chalet guests, not to mention time spent catering to rich and famous villa guests in St Tropez, leaves no doubt that Bloom Eatery and The Grill have the perfect recipe for success.
By the end of the day I've made it through to The Grill's dinner menu and I'm in a dilemma: the Lamb Rump served with pumpkin mash, port wine jus and baby beets sounds marvellous – or should the Pork Shoulder, accompanied by pear and apple chutney, watercress and crostini win the day? Apparently Surf and Turf, along with Scotch Fillet are the most popular dishes among village residents. "The Surf and Turf comes with huge tiger prawns, dauphinoise potatoes, and your choice of blue cheese, pepper, Béarnaise, or port wine sauce. All our sauces are made in the kitchen and are served on the side, so you can have as
much or as little as you wish," says Matt.
To top it all off the dessert menu is equally as taste-bud poppingly fabulous. I'm a bit of a lemon fan so my eyes can barely make it past the top where it says Lemon Trio – and they're completely glazed over by the time I reach the Chocolate Brownie and Apple Tatin a little further down the page. But I'm in good company on this one. Matt reckons it would be his pick too.
Share this article via: