arrow_backBack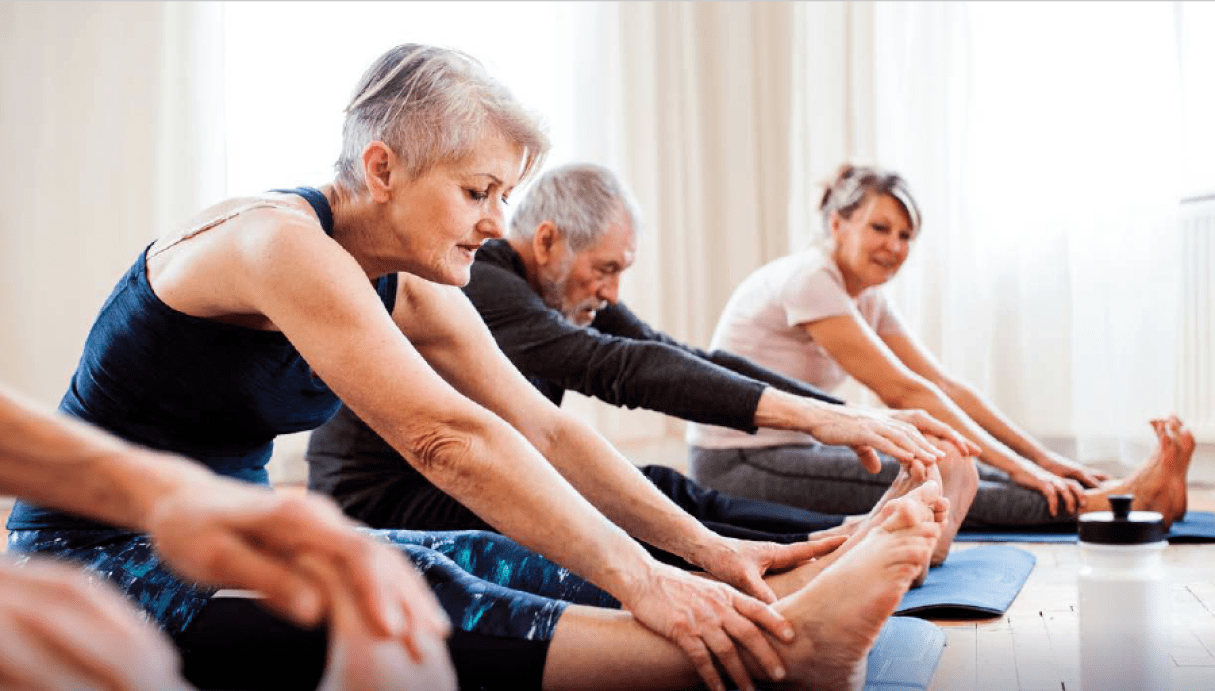 Exercise for the over 75s
General Interest
Exercise is important for everyone, but as you age, it has been described as one of the most important things you can do for your health.
Not only does exercise help prevent many of the health challenges associated with age, it also helps strengthen muscles so you can keep doing your day-to-day activities and stay independent for longer. But did you know exercise also helps stave off cognitive decline? We've pulled together some of our favourite exercises:
Yoga for Seniors
While the fads come and go, yoga continues to be practiced by millions across the world and it might just have the answer for keeping you nimble and preventing falls. Restorative yoga, Hatha yoga and gentle chair yoga are well suited for over 75s, as the focus is on a slower pace and holding poses for longer periods, which is great for strength and flexibility. Many yoga poses focus on strengthening the abdominal muscles and improving your core stability. That can help you become steadier on your feet and reduce your risk of falls. As an added bonus, yoga is frequently touted for its ability to reduce stress and boost wellbeing, among other wide-ranging physical health benefits, including decreasing cholesterol and blood pressure, reducing anxiety and stress, as well as improving lung capacity and bone density for older adults.
Pickleball
Racket sports are a great way to boost the cardiovascular system and that helps stave off many of the unwanted challenges that come with age, such as hypertension, stroke and heart attack. Pickleball is a great option, it gives you a good aerobic workout without as much stress and strain on joints and muscles. Haven't heard this unusual name before? The fast-growing sport is a hybrid of tennis, ping pong and badminton and we're going crazy for it. It's fast-paced, low-impact and the familiarity that comes by nature of its fusion means anyone who has played a racquet sport before can quickly get the hang of it. And, because the court is small (usually half or even a third of a tennis court) and it's usually played as a doubles game, players run a lot less than they would in tennis.
Strength, stretching and balance
If you're an older adult looking to establish an exercise routine, or join a class, strength, stretching and balance workouts are great options to look up. Doing exercises that strengthen your leg and core muscles and improve balance will reduce your risk of falls, while stretching keeps you nimble, which helps your mobility long term. There are plenty of free resources online to help you exercise safely while you're at home and the website www.livestronger.org.nz is a great place to start. If you're looking to get out of the house and meet new people, you can use the website to find strength and balance classes in your area. You'll also find plenty of resources on how to look a!er your body, how to check if you're at risk of falling and advice around how to keep safe while you're exercising.
Water-based
Good ol' H2O has long been a recommended addition to our days, but it turns out that it's not just the consumption of water that has its benefits. The hydrostatic pressure of the water across the whole body surface actually turns water based exercise into resistance training and that has a whole ra! of benefits around balance, coordination and mobility. Not to mention, its light aerobic capacity can reduce the risk of heart disease! If joint pain is making running and on-land aerobics challenging, water-based exercise can be a great option, with the supportive quality of the water reducing the impact on the knees, hips, back and ankles. Aquarobics is not the only water-based exercise that you can explore. Other forms of exercise include water yoga, ai chi (similar to tai chi) and even water pilates.
Share this article via: